This post comes from Angela Colley at partner site Money Talks News.

The holidays are an expensive time of the year. According to the American Research Group, Americans spent an average of $646 on Christmas gifts last year. Add parties, travel and decorations to the mix and it's easy to bust the budget.
It would be nice to have a little extra money set aside to relieve the financial strain. If you do, good for you. But if you don't, try the following tips, and by the time Christmas rolls around, you might just have it fully paid for.
1. Lower your cellphone plan.
Most cellphone plans break down into wireless minutes, data and texting. If you're not using all of your minutes every month or surfing the Web that often, call up your wireless provider and lower your plan. That could save you $20 or more every month, or $60 by Christmas.
2. Cut the land line.
If you have a cellphone and a land line, you're paying for two services that do the same thing. And most wireless plans offer free long distance and unlimited night and weekend minutes, something not all land-line providers offer. Cancel your land line and save $25 to $50 every month, or $75 to $150 by Christmas.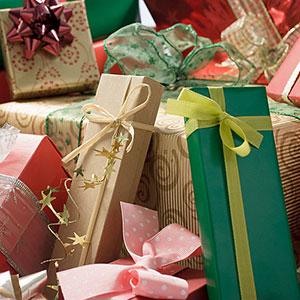 3. Drop the gym membership.
I was one of those people who paid $24.99 for a gym membership every month and made it in about twice a week. Last year, I canceled my membership. Now I run with my dog and lift free weights at home. I'm still in shape, and I'm $24.99 richer every month. Cancel your gym membership and you could save $20 to $35 a month, or $60 to $105 by Christmas.
4. Raise your deductibles.
Raising your deductibles won't change your quality of life, but it may have a big impact on your savings. Going from a $250 deductible to $1,000 on your car and home policies could mean savings of 10% or more. Think about how much of a loss you're willing to self-insure, and call your insurance agent. Your potential Christmas savings: $250 or more.
5. Cancel the premium channels.
Premium cable channels cost about $12 a month and mostly run old movies and documentaries you didn't have any real interest in watching anyway. So why keep them? Cancel all three subscriptions and you'll save $36 a month or $108 by Christmas. Want to save a lot more? Stop paying for cable entirely.
6. Sell your stuff.
Once a year, I take inventory of my stuff, toss everything I don't use in a pile, and sell it. Last year, I made $475, mostly on stuff I didn't even remember I had. Odds are, you have something of value lying around the house. Have a garage sale or sell it online on sites like eBay and Craigslist, and you could earn enough to buy a few Christmas presents. 
7. Save on food.
The Internet is full of tips to help you save money on your grocery bills. Some may be obvious -- like using coupons, buying on sale or choosing generic -- but some might surprise you. For example, did you know you could save up to 50% by buying dented cans at a salvage grocery store? Check out 30 tips to save on food for more ideas. Cut your food bill and you could save $300 or more by Christmas.
8. Ask for a discount.
Ask and you may receive -- lower prices, that is. A study by Consumer Reports found that those who asked for a discount got one up to 83% of the time. You can haggle your way into a better deal on everything from your wireless bill to credit card interest rates. Start negotiating, and you could save $500 or more by Christmas. Not sure how? Check out "Confessions of a serial haggler" for help.
9. Give the plastic a rest.
Try keeping your credit cards at home and paying for everything with cash. Cash helps you save in two ways. First, it's psychologically harder to spend, and second, it limits your ability to indulge in impulse buys. 
10. Skip the ATM fees.
In my area, using an out-of-network ATM costs about $3. Then my bank adds a $2.50 "convenience fee." If I did that once a week, I'd spend $22 a month on ATM fees alone. If you can't make it to a free ATM, use your debit card at a store and get no-fee cash back.
11. Cut out texting fees.
If you don't text often, make sure you're not being charged a monthly fee for bundled or unlimited texting. If you're paying $10 a month for unlimited texting and don't need it, cancel it and save $30 by Christmas. However, if you do text a lot, make sure you have a plan to cover it. It can cost 40 cents or more per message if it's not included in your plan.
12. Use discounted gift cards.
If you're buying something for yourself -- or starting your Christmas shopping already -- use discounted gift cards. You can buy them online and automatically save on anything you buy. Among the sites for gift card deals:
13. Stop buying bottled water.
ABC's "20/20" asked scientists to analyze five different brands of bottled water. The scientists found no difference between what was in the bottle and what came out of the tap in New York. Buying bottled water is a waste of money. If you usually buy five bottles a week at $1 a bottle, you could save $20 a month, or $60 by Christmas.
14. Drop the lottery ticket habit.
If you're buying lottery tickets hoping to win big bucks by Christmas, the odds aren't in your favor. You're better off cutting out the lottery tickets and saving that money instead.
15. Close the book on hardcovers.
I compared a few recent releases on Amazon and found the hardcover edition is typically about $9 more than the paperback. If you typically buy two hardcover books a month, you could save $18 by switching to paperback. By Christmas, you'd save $54. Better yet, stop buying books altogether. Join a library, or swap books you no longer want for ones you do on book swapping sites.
16. Ditch DVDs.
If you're still buying DVDs, even one a month can cost $18. Cut them out until the holiday season and you'll save $54 by Christmas. In the meantime, check out these sites for free movies you can watch online:
17. Do your own manicures.
My mom spends $50 a month having her nails professionally manicured. Sure, they look a little better than mine, but I save $50 a month doing my own manicures at home. 
18. Pack your lunch.
A survey by the placement firm Accounting Principals found that 66% of American workers spend an average of $167 a month on restaurant lunches. Start brown-bagging every day and you could easily slash your lunch bill by 50%, saving $83.50 a month, or $250.50 by Christmas. 
19. Send e-cards.
I'm a little horrified by the cost of greeting cards. The last three I bought cost $3.50 each, and they weren't the most expensive at the store. If you buy three greeting cards a month, you'll spend $10.50. Make your own, or send free e-cards instead. 
20. Make your own Halloween costume.
Halloween is just around the corner. The average American will spend $26.52 on a costume. But with a little creativity you could save that money and make your own costume free at home. Here are a few ideas almost anyone can pull together using what they already own:
21. Brew your own coffee.
In my area, a grande cup of fancy coffee costs about $3.50. If you're in the habit of stopping by the coffee shop every day before work, you'll spend $17.50 a week. Start making your coffee at home and you'll save more than 50%, even if you load up on creamer. Potential savings by Christmas: $65.
22. Wash your car at home.
Express car washes cost an average of $6.50. If you have your car professionally washed, you could spend $20 or more. Do that twice a month, and you'll spend $13 to $40 a month keeping your car clean. Instead, wash your car at home.
23. Cancel the cleaning service.
A friend of mine has his house professionally cleaned once a week because he swears he doesn't have the time to do it himself. I have even less free time than he does, and I still manage to clean my house. I've found I actually enjoy cleaning, and I save $90 a month, compared with his costs.
24. Curb laundry costs.
Laundry detergent costs about 20 cents per load. Considering that the California Energy Commission says the average American family does about 400 loads of laundry a year, you spend about $6.60 a month just on soap. If you really want to save money on laundry detergent, you could start making your own. It will save you up to 90%.
25. Buy cheap beer.
Where I live, you'll pay about $8.99 for a decent domestic six-pack. Buy one a week, and you'll spend $35.96 a month on beer (or a lot more if you stop by a bar for drinks). But you can cut your costs by going online. Sites like Saveonbrew.com help you find cheap beer in your area.
26. Be your own handyman.
Everyone I know has some home improvement job on a to-do list. If you plan to finish one of yours by the holidays, you'll save a ton doing it yourself. For example, a contractor recently offered to strip the wallpaper in three rooms of my friend's house for $200. She did it herself for free.
Even if you're not that handy, the Internet can help. For example: 
27. Dine out on a discount.
You don't have to give up dining out to save money for Christmas, but don't go out without a coupon, special deal or cheap gift certificate in hand. We give you a bunch of ways to eat for less in "15 ways to save on eating out."
28. Buy generic.
In "7 things you should always buy generic," we found that generic versions often cost 50% less than their name-brand counterparts. If you usually spend $45 a month on household necessities, you could save $22.50 a month by switching to the generic brand. By Christmas, you'd have an extra $67.50.
29. Make your own cleaning products.
A bottle of all-purpose cleaner can cost anywhere from $3.50 to $6, depending on the brand you buy. Go through one bottle a month and you'd spend $10.50 to $18 by Christmas. Or you could start making your own all-purpose cleaner and save more than 90%. Just pick up a bottle of white vinegar (about $1.50 for a half gallon) and mix it in a spray bottle with some water. 
30. Save on smokes.
If you're still smoking, now is probably a good time to quit, but you can at least save some money on the cigarettes you do buy between now and the holiday season. We have tips to help in "6 ways to save on cigarettes."
More on Money Talks News and MSN Money: