Got bills? Plenty of us do, if the National Retail Federation is to be believed. According to the NRF, we spent $579.8 billion during the 2012 holiday shopping season.

I'm guessing it wasn't all done with cash.

The arrival of the January credit card statements is one of the factors in the pseudo-science surrounding "Blue Monday," allegedly the most depressing day of the year. That makes sense, given how often those bills are larded with overindulgence.

Sound familiar? Then it's time to look your debt in the eye. But that doesn't have to be as scary as it sounds.

If you haven't already done so, take a deep breath and open the bill(s). More than a few financial planners have told me that some of their clients get so overwhelmed by debt that they stop opening their monthly statements.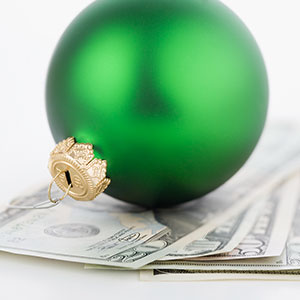 Figure out the minimum monthly payment(s) on your debt. Next up: "Reset your budget," advises Justin Boyle of the 
Money Blue Book blog
. The last weeks of the year tend to be a little freewheeling and "un-budgeted," he says. Time to get your spending back in line with your former spending plan.
(Don't have one? Get started at
MSN Money's "Saving & Budgeting" page
.)
Boyle also suggests you check out any balance transfer offers. Be careful, though, since the fees can be confusing.
Creative repayment tactics
If you've been building an emergency fund or padding a savings account, call a halt and throw that cash at your debt. Otherwise, you might wind up "paying for that superhero action figure until your kid can drive," 
says Victoria Araj of the Zing! blog
.
Yes, EFs and savings accounts are important. So is not paying interest.
No savings? Here are some other options for padding those payments:

Stop shopping. You're in the hole, so quit digging. This isn't a life sentence, just a temporary cutback.

Pare down the nonessentials. Reduce or temporarily cut your cable, pack your lunch, entertain at home instead of going out with friends every weekend, get creative about cooking on a budget (may I suggest the Cheap Healthy Good website?) and generally do what you can to safely and sanely decrease spending. Once again, these are not horrific sacrifices. They're just smarter ways to use your funds.

Return unwanted holiday gifts. A great solution for gifts that "you don't like, don't want or will never use," Araj says. If the refund is in cash, immediately apply it to your debt. If it comes in the form of a store gift card, sell it via the GiftCardGranny aggregator site. You can also use the site to sell any other gift cards you have on hand for up to 93% of their face value.

Look for a "microjob." Sites like Gigwalk, Freelancer.com, PeoplePerHour, TaskRabbit, DogVacay and Fiverr offer short-term jobs -- some traditional, some unconventional.

And now, three things not to do to increase your debt repayment:

Cease funding retirement. Bad idea, even just for a few months. Compound interest is your friend. Besides, once you're out of the habit of paying into retirement, you might delay starting up again.

Take out a payday loan or a car-title loan. Do I really have to explain why?

Stint on essentials. That's no way to get ahead, according to Gail Cunningham of the National Foundation for Credit Counseling. "Keep the home life stable by ensuring that the rent or mortgage is current, utilities are on, food is in the pantry, gas is in the car and medicine is purchased," she says.

Finally, think ahead. If the Way-Back Machine existed you could return to November 2012 and smack some sense into yourself. The next best thing is to start a plan for next year.

"Setting aside some capital throughout 2013 in anticipation of heavy end-of-year spending traffic can make next (holiday) go all the more smoothly," Boyle says.

Here's how I'd do it: 

Figure out what you want to spend next year. (Hint: Look hard at this year's spending. You can probably do better.)
Divide that by the number of weeks left between the end of your debt repayment and mid-November 2013.
Automate that amount each week into an online bank like Ally or Capital One 360 (formerly ING Direct).
It's a little harder to access an online account, which is entirely the point. That money will have a job to do, but not until next November.

Readers: Do you have holiday debt? How do you plan to pay it down?

More from MSN Money: