This post comes from Dori Zinn and Stacy Johnson at partner site Money Talks News. 

Whether you rent or own your home, having a good set of tools, along with a little basic knowledge, is essential.
Depending on your skill level, you'll still need occasional professional help, but there are plenty of things you can do around the house with virtually no skills. All you need is a little help from DIY videos, and a few simple tools.
Buy quality
From car insurance to groceries, there are ways to save on virtually everything. But when it comes to tools, if you have a choice, don't cut corners on quality. Every home handyman knows the frustration of screwdrivers that break, hammerheads that come flying off, and pliers that slip.
Tools can be deceptive because cheap and poorly constructed can often resemble expensive and well made. Whenever you can, opt for quality, something you can often determine by price and country of origin. In general, tools made in America will be higher quality than those made in China.
If your budget is tight, don't be afraid to buy used, especially when it comes to quality hand tools. Good tools can last a lifetime. You're better off with a well-used, quality hammer you found  at a yard sale for $5 than a new $5 hammer from China.
Start with a tool bag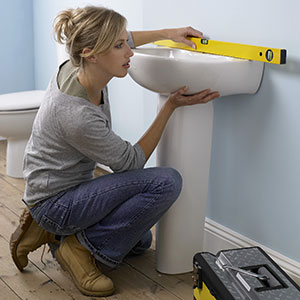 There's nothing like needing a tool, knowing you own it, and having no earthly idea where it is.
While a drawer or shelf can hold the bare essentials, having a toolbox or canvas bag to store your tools is preferable. You can easily buy one for less than $20, and I've seen them for $5 at Home Depot during Black Friday sales.
If you don't have the budget for a bag or toolbox, you can cut the top off a gallon milk jug or use a shoe box. The key is having them all in one place and being able to carry them around the house. 
Safety glasses
Many expensive trips to the emergency room started with bypassing a pair of $4 safety glasses.
Useful when you're working with chemicals, dust or spray paint, they're also a necessity when hammering, sawing, cutting the grass, or doing anything that could result in something hitting your face. If you're painting, sanding or using chemicals, your nose and mouth will appreciate disposable respirators. 
Here's a list of 11 essential tools: 
1. Hammer
Useful for everything from hanging a picture to taking out your frustrations, the foundation of every toolbox is a hammer. While wood handles are cheaper, fiberglass is stronger, lighter, more shock-absorbent, and safer. The typical hammer weighs 16 ounces, and has a curved claw on one side to remove nails and pry things open. Look for the words "drop forged" -- they're better made. You can find a good quality hammer for less than $15.
2. Screwdrivers
The next most-used tool is the screwdriver, with flat head and Phillips (also known as "plus" and "minus") being the most common. You can get a six-piece set for less than $8, or a kit with one ratcheting handle and 20 different bits for less than $20. Ratcheting handles allow you to turn the screwdriver with less turning of your wrist. Insulated handles are easier on your hand and safer for electrical work.
3. Level
Handy whether you're hanging a picture or installing shelves, levels come in a variety of sizes and types. But you can easily find a decent torpedo level for less than $5. Or you can convert your iPhone into a level with a $1 app. 
4. Pliers
You'll use them for tightening nuts and bolts, removing nails from a wall, and holding and bending stuff, among other chores. Pliers come in lots of types: Slip-joint pliers allow you to change the position based on the thickness of what you're working with. Needle-nose pliers get you into tight spots. Channel locks open wide. And dikes come with a wire cutter, handy for electrical work. Sets cost about $20.
5. Duct tape
From making a prom dress to making an emergency repair on a leaky pipe or hose, what can it not do? This tape is thick, extra sticky, strong, and cheap -- less than $5. 
6. Shovel
Anyone living in a snowy climate should have a transfer or square nose shovel around. A round nose (or digging) shovel is a must for cleaning up your garden, dirt, debris, or even cutting small roots. Like hammers, shovels come with either wood handles or fiberglass. You can pick up a decent fiberglass-handled shovel for about $20.
7. Ladder
Used for everything from getting on the roof to putting up Christmas lights, they're a necessity for homeowners. For apartment and condo dwellers, a small stepladder can help for changing a light bulb or adjusting decor. If space is at a premium, you can find telescoping ladders starting about $100. Cut the cost is half by going in on a ladder with a neighbor.
8. Tape measure
It's an old saying: Measure twice, cut once. I  keep small, cheap tape measures in my car and a drawer and a 25-foot, better-quality one in my toolbox. You can find one for less than $10. These are also frequently featured in home improvement stores' Black Friday sales.
9. Utility knife
Tired of using your steak knives to open cardboard boxes? Get a utility knife with retractable, replaceable blades. It's safer than a regular knife, and necessary for chores like stripping wire and cutting open that ridiculous sealed plastic packaging everything comes in these days. They're only about $5. 
10. Hand saw
There are saws for pruning branches, cutting wood, going through metal, and many other specialized uses. You can get one handle with blades that will do most of what you want for less than $15. 
11. Power drill
If you're only going to have one power tool, spring for this one. While obviously useful for drilling holes, a 3/8-inch variable-speed reversible drill can also function as a power screwdriver, buffer, grinder, even sander. Models with cords are cheaper and lighter, but cordless drills are more versatile and less hassle to use. You can buy a decent one for less than $40. 
Should you buy a kit?
One way to get the above tools in one fell swoop -- with the possible exception of saws and a power drill -- is to buy a pre-assembled kit. These are useful if you're not going to use tools often and are also a great to have in the car or boat.
While not the way to get the highest quality, kits can make shopping easy and cheap. You can find a decent home improvement tool kit for less than $30.
More on Money Talks News and MSN Money: