At about the same time of year that gas prices peaked in 2011 and 2012, the price at the pump is on the decline now, according to the latest AAA Fuel Gauge Report.  
The national average for a gallon of unleaded regular gasoline of $3.53, down seven cents from the week before. Gas prices have fallen 16 cents in a month and 38 cents from a year ago.
Gas prices peaked this year on Feb. 27 at $3.79 and have declined all but six days since, according to AAA. The price in 2012 topped off at $3.94 a gallon, in April, and at $3.98 in May of 2011.
Prices have fallen most dramatically in Ohio and Indiana, where motorists have seen drops of at least 30 cents a gallon over the past month. Prices have fallen at least 10 cents a gallon over the past month in 40 states, AAA's survey showed.
Prices have been declining because of weak demand, overall economic woes and a drop in crude oil prices, AAA said.

Meanwhile, while the decline is good news for motorists who have gotten used to seeing high totals at the pumps, consumers in several states are still seeing prices quite a bit higher than the average.The costliest places to buy gas in the U.S. are and the average price of a gallon of unleaded regular are:
Hawaii ($4.39)
Alaska ($3.99)
California ($3.98)
Washington, D.C. ($3.88)
New York ($3.79)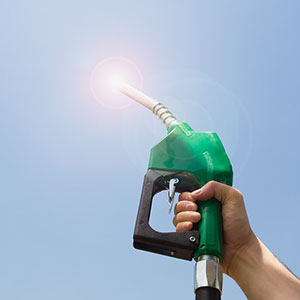 These are the states that have had the biggest drop in gas prices over the past week, the size of the decline, and the average price of a gallon of unleaded regular:
Indiana ($3.42, down 18 cents)
Ohio ($3.38, down 16 cents)
Michigan ($3.51, down 13 cents)
Kentucky ($3.43, down 10 cents)
Illinois ($3.68, down 10 cents)
Drivers in Missouri and Oklahoma, where prices dropped by 8 cents in the past week, are paying less than $3.35 a gallon, according to AAA.

The website GasBuddy.com, which tries to help consumers find the cheapest gas by location, says motorists are seeing the lowest prices in South Carolina, Oklahoma and Tennessee -- all of which have an average of below $3.30 a gallon.  The cheapest place to buy gas in the U.S. right now: the Greenville-Spartanbu​rg area in South Carolina, where the average is between $3.19 and $3.20 a gallon.

If you're planning a long car trip, you can use AAA's Fuel Cost Calculator to help determine how much you might spend on gas.

Consider changing some of your driving habits to save some more money at the pump. Driving more efficiently can help improve gas mileage -- in some cases up to 30%. The U.S. Environmental Protection Agency recommends avoiding rapid acceleration and stopping, adhering to the speed limit, removing excess weight from the vehicle, avoiding idling, using cruise control, and using overdrive gears.

More from MSN Money: